Bozeman
More info to come soon!
Great Falls
Maclean-Cameron Animal Adoption Center

Mission: Fostering a caring community for animals by providing shelter, advancing animal welfare, and promoting the bond between animals and humans through innovative programs, education and service.
For more info, visit the Maclean-Cameron Animal Adoption Center at its website.
Helena
Wild About Cats Rescue & Sanctuary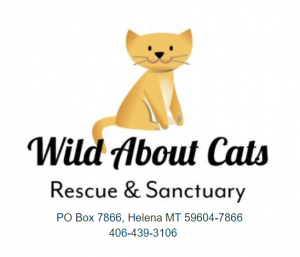 Wild About Cats Rescue and Sanctuary in Clancy, Montana, has saved the lives of hundreds of cats and kittens. Our work is primarily done in the Jefferson and Lewis and Clark Counties in Montana, the greater Helena area. We accept cats from owners that are moving or can no longer care for them. We also rescue cats that have been abandoned or abused. It is our goal to give them loving homes with owners who will love and care for them.
In addition to adopting cats as pets we also provide trap/spay and neuter/return service for community cats which includes rabies shots. We will humanely trap colonies of community cats and then return them to their colony.
For more information, please visit the Wild About Cats website or Facebook page.
Livingston
More info to come soon!