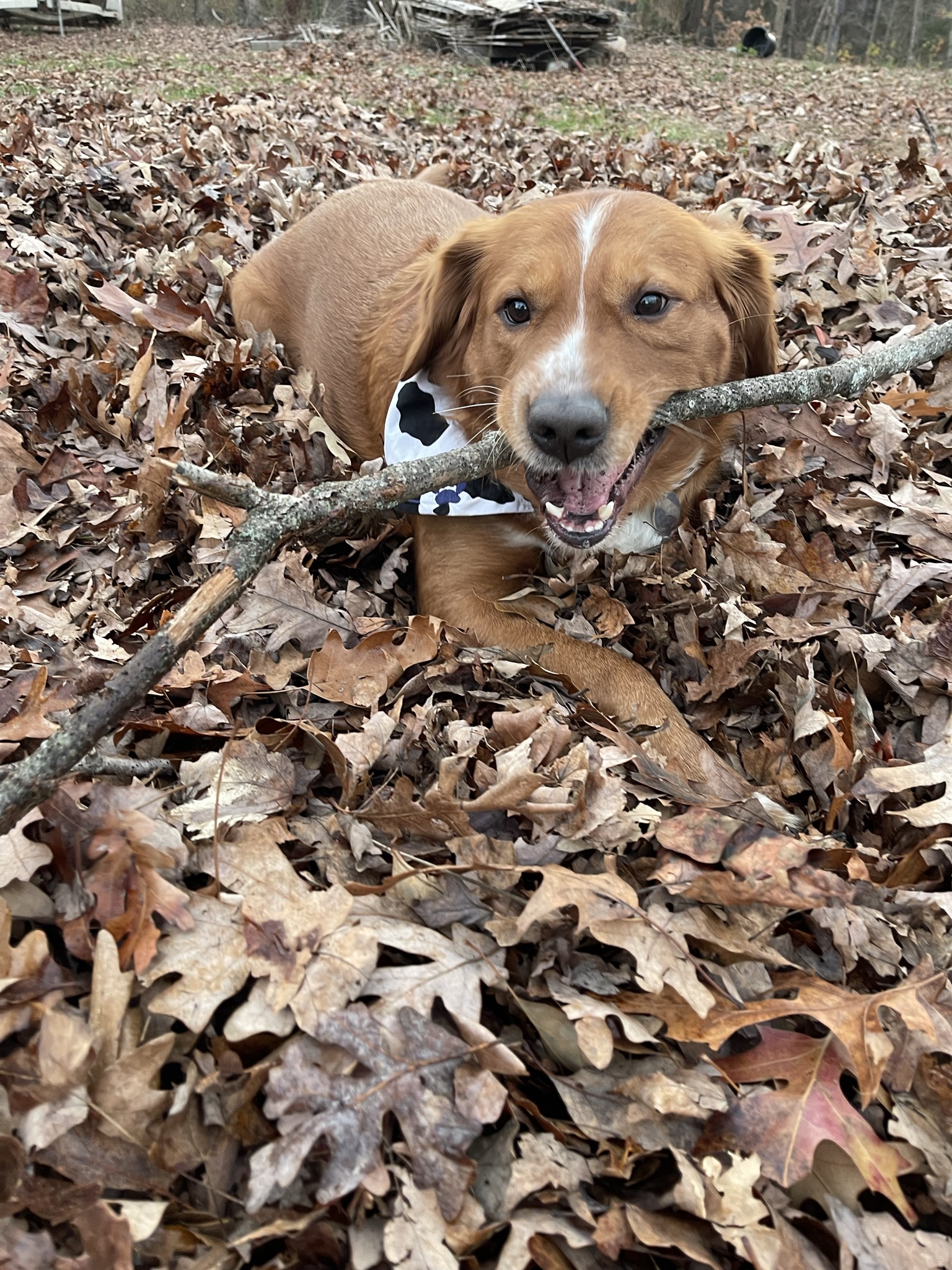 Jake Barney was born on May 25, 2018. He departed this life on July 17, 2023 at the age of 5. On July 10, 2018, Jake was brought home as a surprise to his mom alongside his litter mate, Dixie. His mom got home from work and saw Dixie first (she knew she was coming home), and then Jake popped his head up from under the blanket. He was her soul dog, and from that point on become her very best friend.
Jake was truly the best dog anyone could have asked for. He was picked from the litter by his grandparents because he was in the back corner with his collar in his mouth, and he had the softest, "velvet" ears. As a puppy, he loved his ropes, his stuffed hedgehog "Hedgie", and a stuffed lamb named "Lamby". He was very smart and taught himself to hit his nose on the doorknob when he wanted to go outside. As he got older, he learned to sit, spin, talk, give paw and stand. He no longer had stuffed toys because he would destroy them, so his new favorite toy became an orange rubber bone. He would
frequently take it outside to hold in his mouth while using the bathroom, and would pick it up immediately when someone came home. A lot of times, when he heard someone come home, he would sneak into his mom's room and come out when they opened the door, like he was making a grand entrance and saying "ta-da!" When it was time for a bath, although he did not like them, he
would get in the tub himself and stand patiently. He would even turn around when asked. He was frequently described
as a gentle giant and very tolerant. Jake had a BIG personality. He was the master of giving a side eye. He weighed about 80 pounds and would sit either on top of you or as close as possible. He would take up the entire bed when he slept by laying across it and snoring. When on the couch, he liked to lay on his back with his stomach "airing out." He would "talk" and whine when a toy was under furniture or if he wanted you to get off of your phone to pet him. At night, whoever was up last would tuck Jake in on the couch with a blanket, and he would give you a look if he thought you were going to forget. His Nana always tucked him back in after taking him out early in the morning before work so he could go back to sleep. Jake loved people and other animals. He would bark at first but warmed up quickly. And people loved Jake. To know him was to love him. He earned many nicknames throughout his short life. The most common one was "Snake" because of how he laid so flat on his stomach at times, and how he was sneaky. Others include "Boog" by his dad, "Jakey," "Sweet Potato," "Nook-ums", and "Jakey Snakey."
One of Jake's favorite things was snacks. All kinds of snacks! Regular treats, cheese, green beans, you name it! He would even eat spinach and lettuce. His Grandpa was nicknamed "the snack dealer." He also loved to go outside and play with sticks. He would drag massive limbs around the yard. Once he came inside, he would frequently lay on top of the air vent to cool off. One of his favorite games was played with his Grandpa, called "undercover monster". A hand would go under a blanket and Jake would paw and nip at it for as long as you played. He loved car rides, pup cups (and the occasional donut hole), playing with his siblings, and laying with his parents and grandparents. He will be so incredibly missed and was taken way too
soon.
Left to cherish Jake's memory are his parents, Josh and Courtney, and his grandparents. He also leaves behind his litter mate, Dixie, and a younger brother Moose, along with two cat siblings named Leo and Millie, and a litter mate who he was still close with named Daisy. He leaves behind many fur friends and human friends. He was his mom's world, heart and soul dog and his family is devastated and lost without him. Rest in peace, Jake.