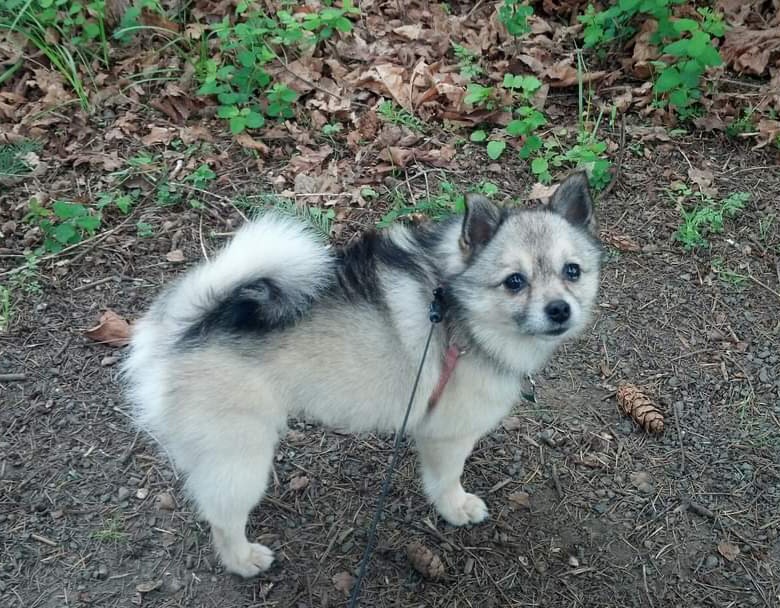 Misty came into our lives in the spring of 2007. We used to stop by the pet shop on the way home from the twins' school regularly to pet the bunnies and look at the animals. Michelle first saw Misty and two of her siblings in a cage at the back of the store. She hollered for me to come and asked if I would give permission to have her taken out of the cage and I said sure. As soon as that lady came around the corner with Misty (no bigger than a hamster), our eyes met, and her little twig of a tail started wagging and it was all over. While I don't like the idea of buying dogs from pet stores and had always gotten my pets from the shelters, there was no saying "No" to this little girl. I was hopelessly in love. And so, it began… Misty Mae Sheppard was born on March 27th, 2007, and she died on October 19th, 2023. She was a PomChi, a hybrid of a Pomeranian Mama and a Chihuahua Papa, but everyone said she looked like a little wolf. She thought she was a big wolf, though, because she feared nothing or no one!
She lived for 16 years and spent all of them (save her first 8 weeks) with me. Even being so old, people would often stop me to ask what type of "puppy" she was. She was my "Perma Pup" and very biggest supporter for all of those years. Misty was feisty from the beginning! She used to sit on the back of the couch in front of the big window and yap at everyone that walked by our house. When I'd meet someone new from the neighborhood and told them where I lived, frequently they would say, "Oh yeah… are you the house with the cute little dog that barks all of the time?" She also loved to slip out the door between our legs whenever we opened it. Then she would lead us and most of the kiddos in the neighborhood on a wild goose chase! Always within sight as soon as we got close enough to possibly catch her, she would run off another 30 feet and wait for us! OMGosh! What a pup!
When we had company, she would bark at them incessantly for at least 5 minutes. I could not get her to stop! She was so embarrassing! She also bit people. She was so darn cute that everyone always wanted to pet her. I would tell them not to and if they did anyways, they would often get bit. She thought it her duty to protect me! She used to herd kittens around, too. We always seemed to have at least a couple of kittens and she was their boss! It didn't matter how many or how big the cats were, they were her charges only one cat, Diamond, who was over 20 years old, did she leave alone. She would also chase off big dogs… like Dobermans, Shepherds, Pitties… you name it. She was such a ferocious ball of energy; they didn't know what to think and would run for their lives!
She and I used to take long walks in the woods along the Tualatin River by our house. She would play "Hide and Seek" with me. She would go running right past me and suddenly stop and backtrack to where I was. It wasn't fair! She had that keen sense of smell. When Covid and the riots hit Portland, I chose to make my exit and headed down to be with my oldest daughter in Miami. I drove all the way down there with my Acura loaded to the top with whatever belongings I could fit in it. Misty set atop the pile next to me in the driver's seat and off we went. She was right beside me on the long trip back up to the Northwest and my final destination, Montana. Here she has been with me and my boyfriend since then. She has enjoy chasing deer and rabbits. She has been in a constant confrontation with the cat of the house, Sox, but they loved each other.
Tragedy struck last August she was attacked by a large white Huskey, and her lung sack was punctured, as well as a few of her ribs were broken. Amazingly she survived, thanks to the wonderful team at Big Sky Animal Medical Center in Great Falls. Unfortunately, though, the attack and injuries led to congestive heart failure, and she slowed down last winter, to the point that I thought she was going to die. She had issues breathing. Through some miracle from God above she recovered almost fully in the Spring, and we had one last wonderful summer together. We took lots of road trips with friends and loved ones. Fun trip to the river and in the mountains.
Unfortunately, at the first sign of winter, she quickly went downhill. The vets and I tried everything we could to prolong her precious life and it was a terrible heartbreaking experience to watch her suffering as much as she was. She never gave up fighting, but in the end, I had to make the desperately difficult decision to put her out of her misery. It truly was the most terrible decision I have ever made, but her liver was failing, and she emptied her stomach of all of its acidic contents. She was so miserable. I was with her, and I held her during the procedure, and it could have killed me. Certainly, a part of me, a BIG part, died with her. It has been almost a month ago and I am just now able to gather the courage to finish this obituary. She has been with me in spirit almost constantly, since then, and that is helpful, but I do miss holding her little self. I miss her so very much.
She leaves behind many special friends, my boyfriend Kevin Rose, who was her only "daddy", my daughters, Sandy, Nicole, and Michelle. My granddaughters Adri and Everly, plus one she didn't get to meet, Daisy. She had friends everywhere she went. Heather, Chris, and Dawson Dye, Orasa and Carl Lackey, the Fatehi's, the Rene's, and all of the people we lived with on 56th court in Tualatin, Oregon. The Hannigan's in Sherwood, Teri Cliff, the Mitton's, and many, many more.
Goodbye little Misty. No one will ever understand how very important you are to me. There were so many times when you were the only thing I had. You have been with me through thick and thin and I will never, ever forget you. I miss you so very much! I will love you forever and will be looking for you on the "Rainbow Bridge" first thing when it is my time to leave this life.
I wish to take this opportunity to extend my deep and heartfelt gratitude to the 406 Pet Crematory. They provided so much comfort and took extra measures to save a clipping of her fur for me and even included a beautiful little charm, as well as her pawprint and ashes. Her vets at BigSky gave me a card and several pawprints and a print of here cute little nose. Both of these service providers went above and beyond. I can tell they truly care about my little Misty.