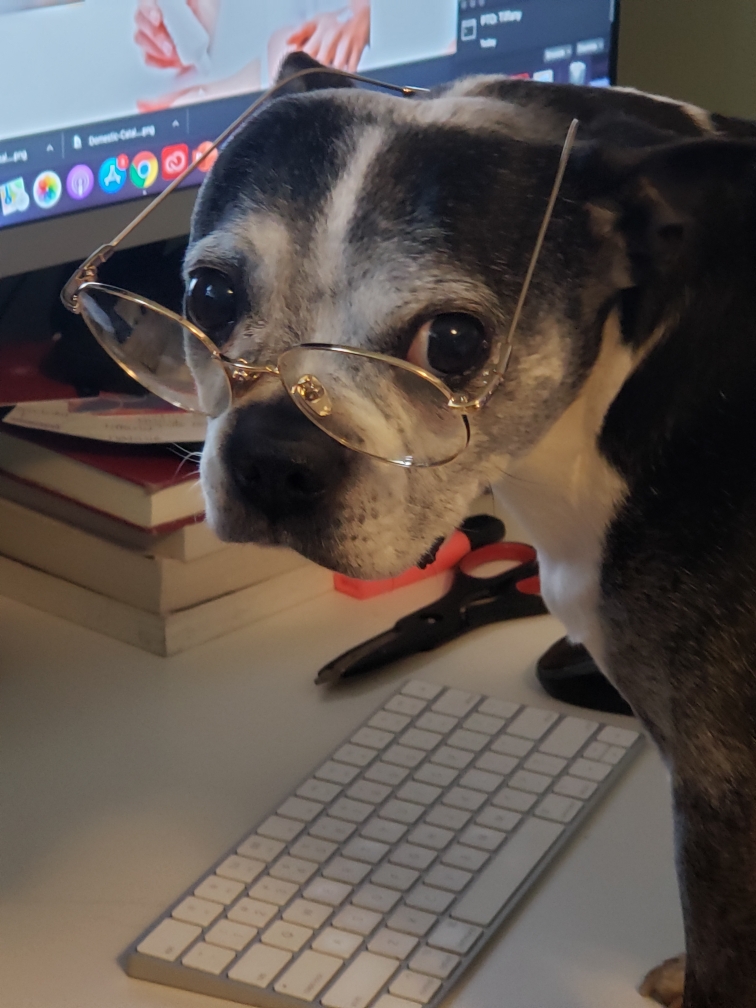 Suzy. Known also as: Suzy Q, Suzy-Wuzy Suzan, Suzanna, Suzy Puhpie, Suz, Stinky Dog, Bebe, Tic Tac, Little Bean, Varmint Killer, Sussy, Tater Tot, Baby Minecraft Cow, Baby Yoda, Sussy Baca, Lil Piggy, Bubble Girl and my favorite, Birthday Present. She was born May 1st, 2009. My mom brought a country kid to the "big city" of Great Falls to meet a family with a litter of Boston Terrier puppies as my birthday present. I was 8 about to turn 9 and the puppies wanted nothing to do with me. Defeated I sat down in their backyard and watched as the puppies played. After a few minutes one little puppy came out from behind the grill on their patio trotting over to me. Unabashedly she plopped herself on my lap and fell asleep. Suzy continued to give our family and everyone she encountered that same bold and unconditional love that she had the first day we met. She was the best nanny dog that helped raise my sisters and I. Always patient and very tolerant of the many outfits, spa days, and training regiments we put her through. She loved kids and always made even the hesitant children comfortable.
Suzy made a profound impact on my life growing up. Having her by my side from 8 until 23 she taught me many more lessons without saying a word, than I taught her tricks…and she knew MANY tricks. She definitely proved the old adage wrong "old dogs can't learn new tricks". The most impressive was when she started to pick up on sign language after her ears started to fail her. Her funniest trick was being able to balance objects on her head, or hold them in her mouth, all while posing for a photo op. Her favorite toys were the bubble machine, laser pointer, fried egg, drumstick, mini beaver, anything she could play tug-of-war or fetch with, and always more bubbles. When working from home, my mom couldn't help but notice that Suzy's internal clock was insanely accurate. She was always a couple minutes early to the driveway or the front door waiting for the school bus. She quickly picked up on the word "bus" and would freak out when it was said. Even the worst bad days were easily cured when Suzy was waiting for you to play the afternoon away.
In her 14 years she has lived in many different places with us. She left behind Emily, Logan, Sandi, Carey, Kyleen, Jessie, and Cheddar who all love and miss her terribly. Even though we were forced to say goodbye to you, your love and memories live on. It means that no matter how many dogs we share our home and heart with, you will always be the most special soul I've ever seen. I hope you are chasing squirrels, taking plenty peanut butter snack breaks, and bossing around Citori, Kimber, and Champ like the terrier you are. Thank you for choosing us, Suzy. I love you!